Description
Pre-Order – Statue Storm – X-men Age of Apocalypse – BDS Art Scale 1/10 – Iron Studios
With translucent energy flames spawning from her hands, the mutant with white hair and eyes praised as a deity by her people in the African continent opens her arms while she is raised by a vortex of wind current at her feet that she controls. Wearing a bicolor black and white habit with a flavescent sash on her waist, floating over a pedestal made by rustic mechanic elements, Iron Studios bring the statue "Storm BDS – X-Men: Age of Apocalypse – Art Scale 1/10", with the version of the Goddess of the Winds inspired by Marvel's audacious comics saga from the 1990s.
With the objective of keeping her territory in Africa safe from the conflicts of war between humans and mutants, Ororo Munroe ended up drawing Apocalypse's attention to her and her people. The conqueror villain attacked her nation and captured her to transform her into one of his Horsemen. As Sinister's prisoner, one of Apocalypse's minions, she was marked and named Storm. With Scott Summers' help, a disciple of Sinister, she was able to escape and was found by Pietro, the sprinter mutant known as Quicksilver, Magneto's son. Thus, Ororo joined the X-Men and kept the name Storm to remind herself of what she had been through.
When the psychotic mutant named Legion, son of Professor Charles Xavier, went back in time to eliminate Magneto but accidentally killed his father, a great change occurred in the timeline, creating another reality. This event made it possible for the immortal mutant villain Apocalypse to take control of Earth, in a world where the X-Men were created by Magneto, who came to believe in Xavier's dream of mutants and humans living in peace. The only person aware of how history has changed is the mutant Bishop, and only he can stop the emergence of the Age of Apocalypse…More than just a story arc, "Age of Apocalypse" was a big Marvel event, of great importance for the comics chronology and praised by fans to this very day. Now, this memorable saga is represented in another fabulous diorama set with statues by Iron Studios, revealed on the Inside Iron Studios Day, already individually available for Pre-Order. Check out more on Iron Studios' social media and YouTube channel.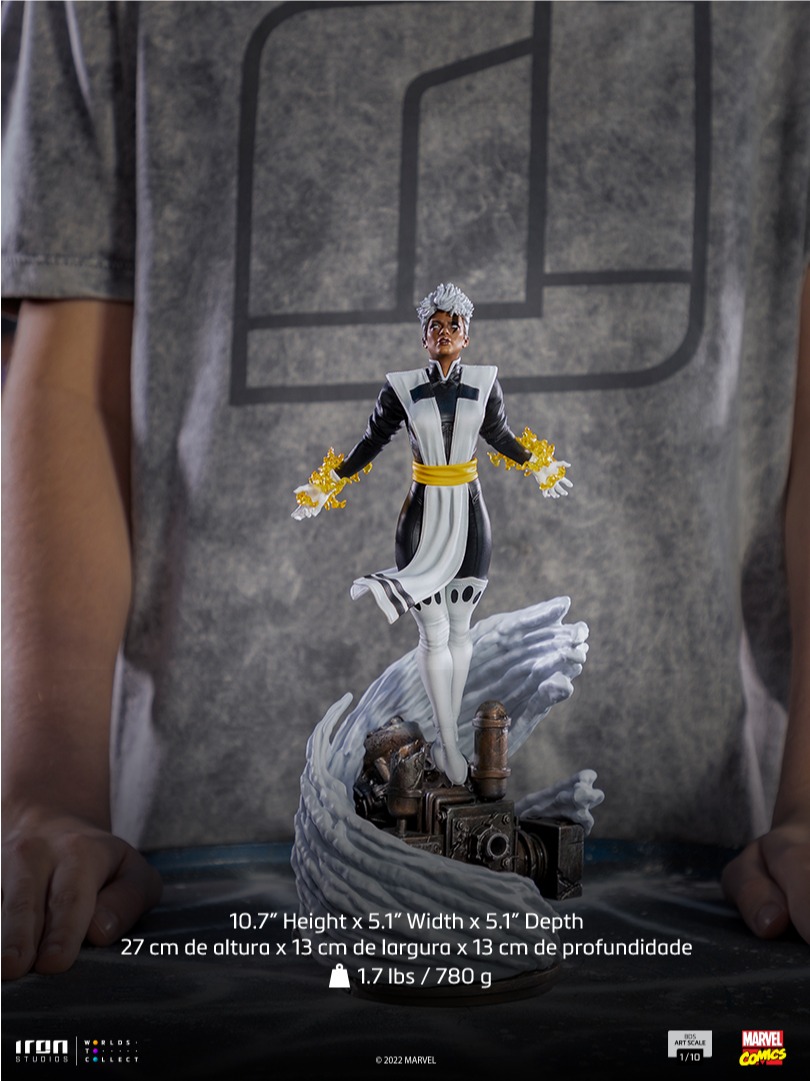 Card – X-Men AoA Storm BDS Art Scale 1/10
Made in polystone – *(may contain parts in resin, polystone, PVC, metal and fabric)